---
If you oversee the work of two or more people and you...
... want your team to get more done in less time
... want less drama within your team and more cooperation
... want to stop micro-managing, and trust them to take responsibility
... want them to work well together and achieve - or exceed - the team's deliverables
... want to have more results-oriented conversations with everyone on your team
... want to make more confident staffing decisions
... want your team to really perform like a team
Then the Coaching Skills Quick Start self-study training guide was designed just for you!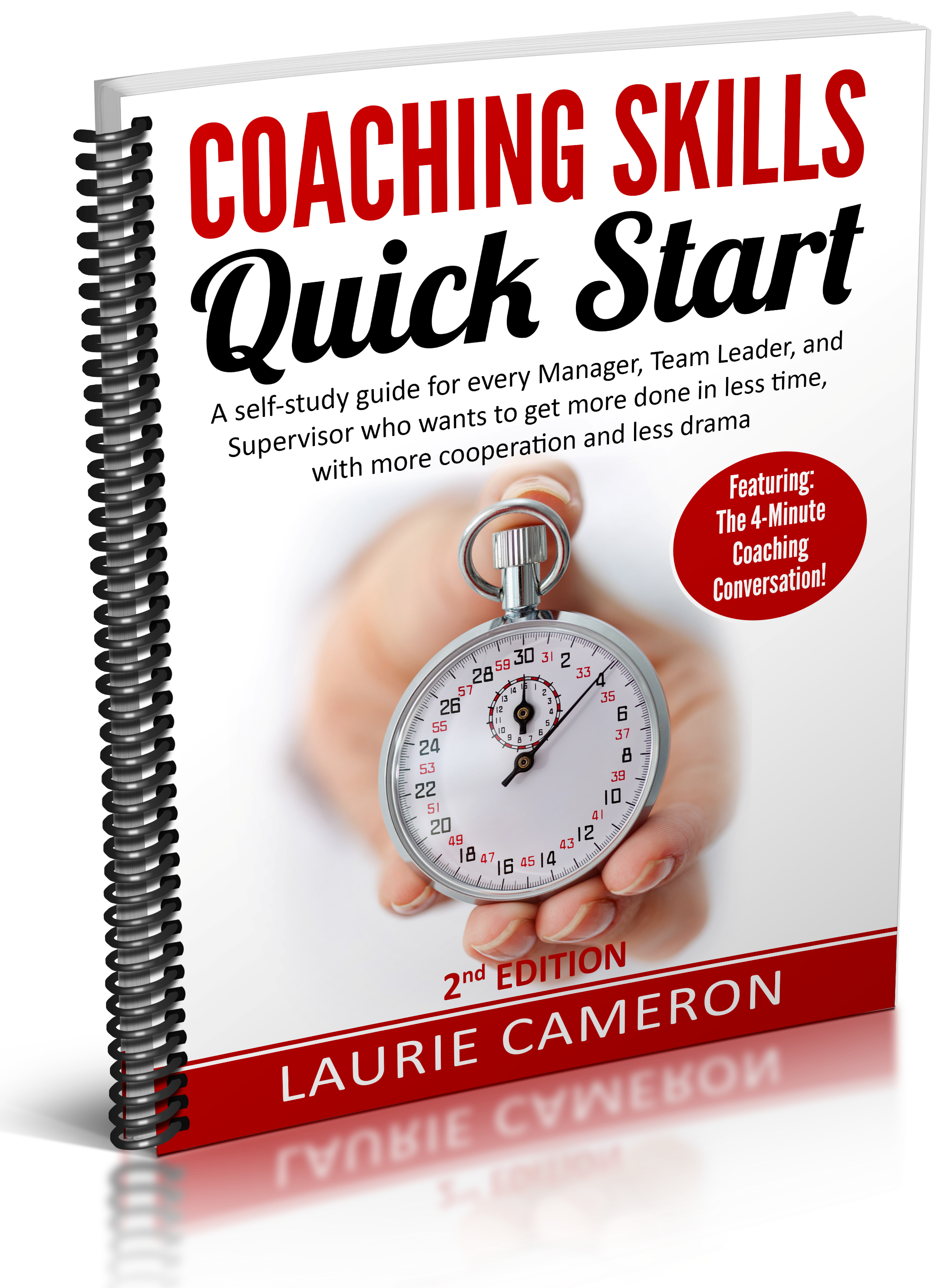 ---
In about 2 hours, you will know:
⇒ The 3 things every one of your team members wants (and without them, your collective success will be limited)
⇒ What coaching is and what coaching is not (are you doing any of these "is not" things without realizing it?)
⇒ The 3 most important coaching tools to integrate into your current leadership toolbox (I'll bet that #1 will surprise you!)
⇒ Who you have to be on the inside before you even open you mouth to start coaching
⇒ Why coaching your team always works better than just managing your team
⇒ A simple technique you can use anywhere and anytime to turn your chaos into calm (in just 60 seconds!)
⇒ A basic 3-step Coaching Process you can use to facilitate a relationship-building and result-focused Coaching Conversation with any team member anytime!
---

"You don't build a business.
You build people and then the people build the business."
~ Zig Ziglar ~
---
When you invest in coaching skills training for all your leaders, your company will see (among other benefits):
⇒ An increase in positive, respectful communication between your managers and their teams
⇒ An increase in productivity because your employees will be both more engaged at work and more willing to collaborate with each other
⇒ An increase in employee retention because when your employees respect their managers and each other, they will also be more committed to your company's vision, mission, and goals
---
Why invest in this professional development program?
Learn how to coach your team from a Master Mentor Coach!
If you want to learn how to leverage masterful coaching skills to empower and inspire every person on your team, then you want to learn from someone who not only knows what coaching is (and isn't!) and has operated a successful coaching business for almost two decades, but also has extensive experience facilitating professional coach training.
This is what you, and by extension your team, receive when you choose this powerful leadership development program designed and written by Master Mentor Coach Laurie Cameron:
⇒ Logged over 4500 hours facilitating professional coach training since 1998
⇒ Personally trained over 1000 professional coaches from all around the world
⇒ One firm belief that everyone can benefit from mastering coaching skills
---
Here's what's packed into this 108-page self-paced training guide:
Part 1: Building Your Foundation
Your Journey from Manager to Coach

What a Coach Does and Does Not Do

The 3 Pillars of Coaching

Why Coaching People Works Better than Managing People

The Coaching "Fire Triangle"
Part 2: Time to Coach!
If You Want Better Answers…

More Coaching Tools

The Coaching 3-Step

The 4-Minute Coaching Conversation
Part 3: Your Next Steps…
Coaching Mastery

Links & Resources

About Your Mentor Coach
---

"If you want to build a ship, don't herd people together to collect wood and don't assign them tasks and work, but rather teach them to long for the endless immensity of the sea."
~ Antoine de Saint-Exupéry ~
---
What would you expect to pay for a comprehensive training guide that bundles over 18 years of Coaching and Coach Training experience into one concise and informative package?
Hundreds of Dollars?
Thousands of Dollars?
GOOD NEWS!
You can gain access to this extensive body of knowledge for just $49*!
(*plus S&H and applicable tax; ships in 3-4 business days)
Click the link below to order your copies of this self-study program packed with valuable information for you and your team:
---
DISCLAIMER:
The material contained in the Coaching Skills Quick Start self-study training guide and the Coaching Skills Jump Start Pilot Program is intended for professional development and informational purposes only. Completion of these programs neither provides nor implies receipt of any form of certification or other designation or credential as a Professional Coach. If you are interested in becoming a Certified Professional Coach, contact Laurie.