#1 reason workers will stay:
"I like the people I work with."
CareerBuilder/Harris Interactive
You want the very best work environment for your team. You wouldn't be in the position of leadership that you're in without knowing that a respectful, collaborative, positive work environment has the power to fully support their best efforts. You know that when people love to come to work and like who they work with, employee engagement, productivity, and customer service just naturally soar.
What is a COACHING CULTURE?
"Culture" is generally defined as "the collective behaviors and beliefs of a specific group of people."
So the culture of your team, company, or entire organization is the collective bundle of each individual's behaviors and beliefs — which include their thoughts, words, actions, fears, filters, values, life experiences, and skills. Your team's culture is heavily influenced by each team member's unique and distinct personality, and each individual's own awareness of their inter-personal challenges and skills.
You create a Coaching Culture when you strategically empower all of your team members to co-create a workplace environment that embodies all the elements that define masterful coaching: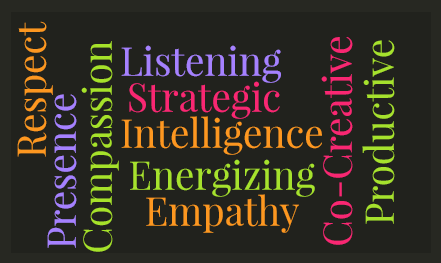 What is YOUR current culture?
To get an overview of the kind of workplace culture you currently have, do a quick mental survey of your workforce, as individuals and as a team as a whole. These four parameters can help you identify the kind of culture you have right now.
LOOK AT:
1. How well they know and understand themselves:
Is everyone able to perceive themselves with understanding and self-compassion?
Is everyone open and willing to learn and grow from their mistakes?
2. How well they know and relate to each other:
Does everyone speak to each other with kindness and respect?
Does everyone step in willingly to help each other out?
Do they all spend some time getting to know one another?
3. How well they respond to and manage change:
Does everyone "roll with the punches" when challenges pop up or when things don't go the way they want them to?
Does everyone pro-actively look for creative solutions when problems and obstacles inevitably arise?
4. How well they relate to and complete their work:
Does everyone like what they do all day?
Can everyone see how their work directly contributes to the overall mission and financial well-being of the company?
Mind the GAP
If just one of your answers above started with "Mostly" or "Well, yes, but….", then there's a gap between the workplace culture you have and the workplace culture you want.
WAKE UP! Enterprises will help you fill that gap — large or small — with cutting-edge, time-tested communication tools, inter-personal skills training, and individual and team performance coaching.
"Creating a culture-first mentality is a critical step for employers when it comes to building a highly engaged workforce."
Chris Boyce, CEO of Virgin HealthMiles

Are you ready to to build and sustain a highly engaged workforce?
Then it's time to bring the pieces together.
Contact Laurie today to schedule your complimentary
Coaching Culture Assessment session.